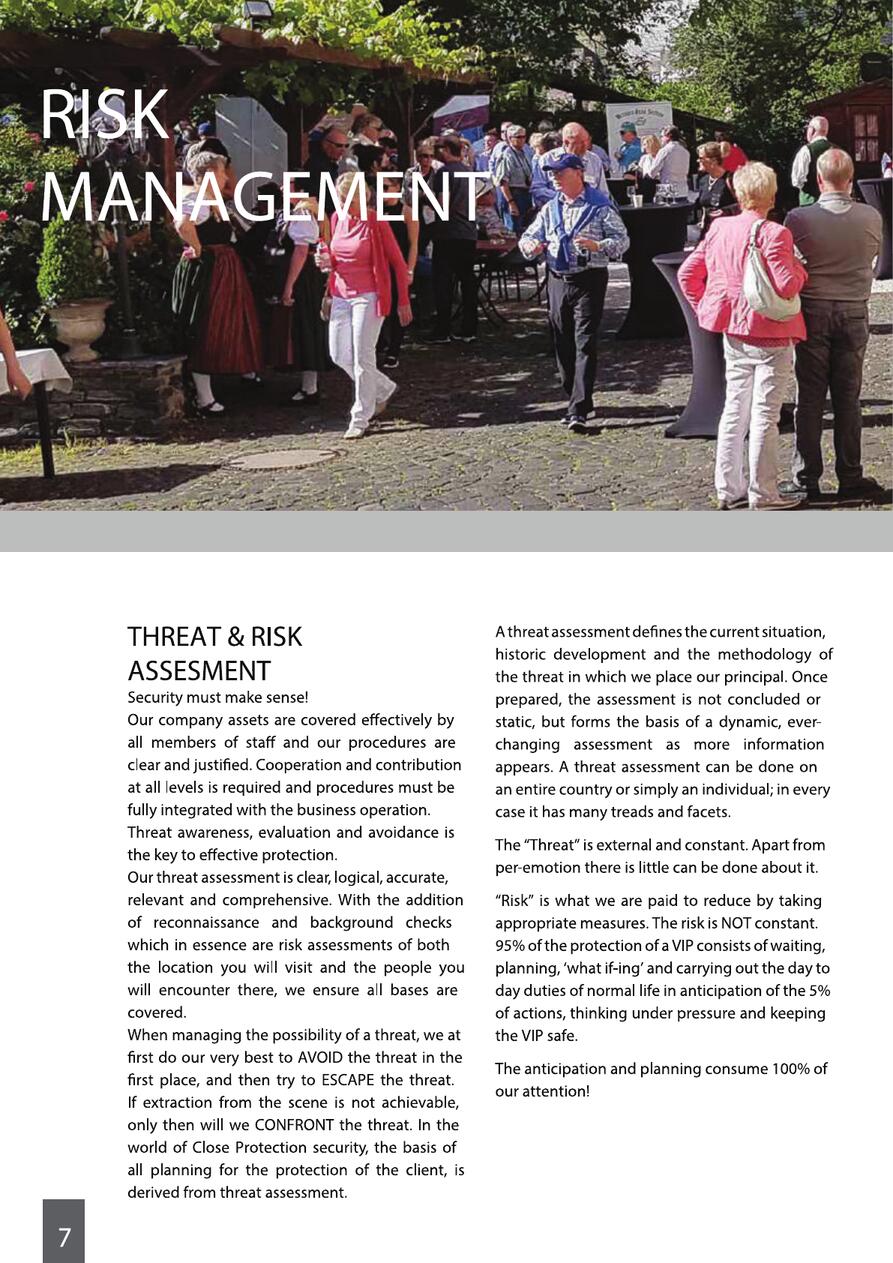 8
RISK
MANAGEMENT
THREAT & RISK
ASSESMENT
Security must make sense!
Our company assets are covered effectively by
all members of staff and our procedures are
clear and justified. Cooperation and contribution
at all levels is required and procedures must be
fully integrated with the business operation.
Threat awareness, evaluation and avoidance is
the key to effective protection.
Our threat assessment is clear, logical, accurate,
relevant and comprehensive. With the addition
of reconnaissance and background checks
which in essence are risk assessments of both
the location you will visit and the people you
will encounter there, we ensure all bases are
covered.
When managing the possibility of a threat, we at
first do our very best to AVOID the threat in the
first place, and then try to ESCAPE the threat.
If extraction from the scene is not achievable,
only then will we CONFRONT the threat. In the
world of Close Protection security, the basis of
all planning for the protection of the client, is
derived from threat assessment.
A threat assessment defines the current situation,
historic development and the methodology of
the threat in which we place our principal. Once
prepared, the assessment is not concluded or
static, but forms the basis of a dynamic, ever-
changing assessment as more information
appears. A threat assessment can be done on
an entire country or simply an individual; in every
case it has many treads and facets.
The "Threat" is external and constant. Apart from
per-emotion there is little can be done about it.
"Risk" is what we are paid to reduce by taking
appropriate measures. The risk is NOT constant.
95% of the protection of a VIP consists of waiting,
planning, 'what if-ing' and carrying out the day to
day duties of normal life in anticipation of the 5%
of actions, thinking under pressure and keeping
the VIP safe.
The anticipation and planning consume 100% of
our attention!